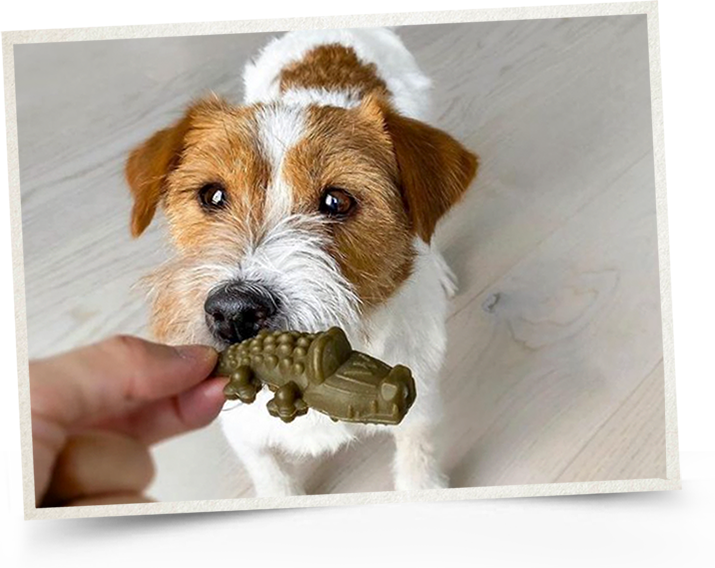 A WHIMZEES® A DAY HELPS MAINTAIN YOUR DOG'S DENTAL HEALTH. IT'S AS EASY AS:
Chew
1X
daily
Cleans
2X
better*
Lasts
3X
longer*
*Based on data and kennel study results at WHIMZEES.com
UPLOAD A PHOTO OF YOUR DOG'S SMILE FOR A CHANCE TO WIN!
Enter by submitting a photo of your dog for a chance to win weekly prizes or a grand prize of free WHIMZEES® for a year!
You can enter daily until February 28, 2022.
LEARN HOW A WHIMZEES® A DAY CAN HELP MAINTAIN YOUR DOG'S DENTAL HEALTH
LOOKING FOR MORE FUN?
CHECK OUT THE WHIMZEES® DANCE!
In addition to WHIMZEES® dental health benefits, they also tend to cause dance-inducing excitement in dogs everywhere! Try it out!
Give your dog a WHIMZEES® every day to help maintain their dental health and get them dancing!
Share your dog's WHIMZEES® Dance! Post a video of your dog dancing with the hashtag #WHIMZEESDANCE
SHARE YOUR DOG'S SMILE WITH OUR FUN PHOTO TOOL.
LOVE WHIMZEES®?
Bring the same love and excitement to mealtime!
EXPLORE OUR
WELLNESS® NATURAL FOOD
AND TREATS FOR DOGS